Calcium And Vitamin D
1.15g/softgel×150softgels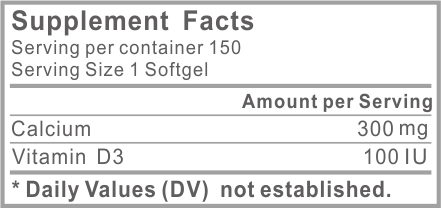 Ingredients: Calcium carbonate, Vitamin D3,
Accessories: Soybean Oil, Beeswax, Gelatin, Glycerol,
USP Water, Lemon Yellow, Titania.
Ingredient efficacy: Every grain of 300 mg of calcium,
Vitamin D3 2.5μg.
Function: Calcium and vitamin D
Suitable for: All the people need calcium and vitamin D
Not Suitable for: Infants under 3 years old
Expiration: 24 months
Date Manufactured: See the bottle
Suggested use: 7-10 years old children,
take 1 softgel each time, twice a day.
Net weight:172,5g
Product Specification: 1.15gx150 softgels
Storage: cool and dry place.
Statement: This product does not take the place of drugs.
Appropriate crowd outside the crowd is not recommended
consumption of this product. Unfavorable exceed recommended
or with other nutrients to eat at the same time.