Green Papaya Blend
60 CAPSULES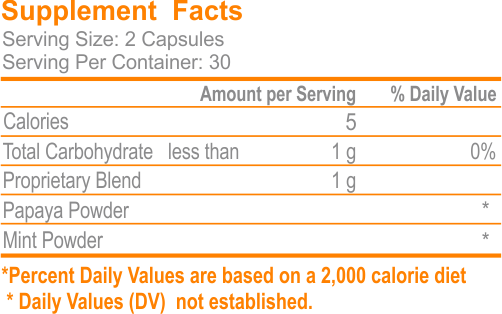 Ingredients: ListPapain, Protease I, Protease II, Protease III,
Peptizyme SP, Amylase, Lipase, Cellulase, Hemicellulase,
Lactose, Alpha Galactosidase, Calcium Chloride.
Suitable for: Adult
Expiration: 36 months
Date Manufactured: See the bottle
NOTE: Since enzymes deactivate at temperatures above 118°F.
Don't sprinkle on food beyond this temperature.
NOTE: If you are pregnant or nursing, consult your health care
professional before using this product.
KEEP OUT OF THE REACH OF CHILDREN.
Regular Use: Take two capsules during meal or soon after.

Net weight: 30g
Product Specification: 500mg x 60 Capsules
Storage: Store in a cool, dry place.
*These statements have not been evaluated by the Food and
Drug Administration, this product is not intended to diagnose,
treat, cure or prevent any disease.