Black Maca
60 CAPSULES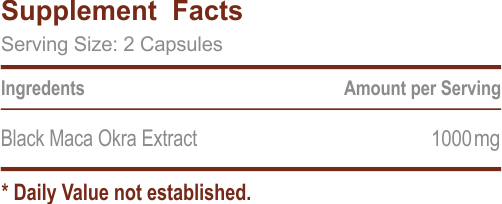 Other Raw Material: Gelatin.
Suitable for: Adult
Expiration: 24 months
Date Manufactured: See the bottle
Cautions:
Do not use this product if pregnant or lactating. Do not use this product
if the protective seals has been broken or removed. If symptoms persist,
contact your doctor.
Suggested Use: 2 Capsules daily.
Net weight: 30g
Product Specification: 500mg x 60 Capsules
Storage: Store cool and dry place. Do not expose to high temperatures.
Keep this product out of reach of children.
*These statements have not been evaluated by the Food and
Drug Administration, this product is not intended to diagnose,
treat, cure or prevent any disease.