Colon Oxygenator
60 CAPSULES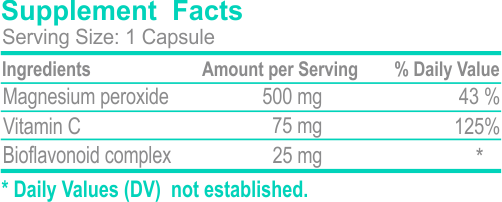 Other ingredients: Gelatin, Glycerin, USP water.
Initial Use: For a full colon cleansing, take 2 capsules three
times daily between meals. You will notice increased bowel
activity within one to two days.
Regular Use: Take 1 capsule three times daily between meals
or as required. Do not take more than 6 capsules daily.
Suitable for: Adult
Expiration: 36 months
Date Manufactured: See the bottle
COLON OXYGENATOR is the ultimate in colon care convenience.
It provides a gentle, safe and effective means of softening and
loosening the stools.
Superior to other methods of cleansing and detoxification.
COLON OXYGENATOR'S natural Magnesium peroxide formule
releases molecular oxygen and ozone to enrich and purify your
digestive tract. Used regularly, it promotes regular and comfortable
bowel activity.
Net weight: 36g
Product Specification: 600mg x 60 Capsules
Storage: Store in a cool, dry place.
*These statements have not been evaluated by the Food and
Drug Administration, this product is not intended to diagnose,
treat, cure or prevent any disease.